Financial literacy and women empowerment programs underscore Visa's commitment to Cambodia
03/08/2023
Visa's award-winning global initiative Practical Money Skills aligns with government push towards financial inclusion
Visa, the world's leader in digital payments, recently implemented several successful initiatives that demonstrate its commitment to support the government's mission to elevate financial literacy and inclusion among women and young people across the country.

Empowering women through financial literacy
Visa partnered with the Ministry of Women's Affairs (MoWA) and the National Bank of Cambodia (NBC) to deliver the "Promoting Financial Literacy for Women and Women Entrepreneurs" program, a two-year program aimed at economic empowerment of rural young women, entrepreneurs, and students. The initiative was launched in 2020, with the second phase – titled "Advancing Women's Economic Empowerment in Rural Areas through Promoting Financial and Digital Literacy" – recently held and concluded in 2022, helping to further promote financial well-being and economic empowerment among Cambodian women.
The program featured trainings, forums, and workshops on essential digital and financial literacy skills and interactive tools, led by staff from MoWA, Line Ministries and Provincial Departments. The highly informative activities included a workshop as well as virtual and face-to-face events for female students on the application of basic digital and financial literacy skills, and practical skills essential for women's economic empowerment. These sessions were held in coordination with the Women Development Centres of the four provinces of Siem Reap, Kratie, Stung Treng and Preah Vihear. All in all, the activities gathered 425 participants, including 355 women.
H.E. The Chhunhak, Director General of Gender Equality and Women's Economic Development from MoWA, said: "We believe that the women of Cambodia can and should be able to demonstrate their business acumen, as well as achieve financial independence. The trainings and forums of the program have hopefully helped them and serve as a solid step towards true financial inclusion in Cambodia."
H.E. Rath Sovannorak, Assistant Governor and Director General of Banking Supervision from NBC, said: "With Cambodia moving fast towards a digital economy, digital and financial literacy will enable our people, especially women, to confidently manage finances with enhanced knowledge, improved skills, and beneficial tools."

Advancing Inclusive Economic Growth by Supporting Women-Led Businesses
Providing access to capital for women-led small and micro businesses (SMBs) is also at the heart of Visa Inc.'s corporate foundation, Visa Foundation. Visa Foundation supported The Asia Foundation's "Accelerate Women's Entrepreneurship and Access to Capital" project as part of its Equitable Access Initiative, a US$200 million strategic commitment announced in April 2020 to address longer-term needs of SMBs, while fostering women's economic advancement.
The Asia Foundation's two-year project has supported 800 women entrepreneurs across 12 provinces in Cambodia to access capital and grow their businesses by providing digital skills and financial literacy training, business skills, financial planning, and support to access online markets through e-commerce platforms. Most importantly, the project linked women entrepreneurs with financial institutions and services who worked with capital providers to meet the needs of each small business owner.
The Asia Foundation's Country Representative in Cambodia, Ms. Meloney C. Lindberg, said, "The Asia Foundation's programs on inclusive economic growth, such as this one supported by Visa Foundation, aim to create a more supportive business environment for women entrepreneurs, equipping them with the necessary tools for success where they are not only jobseekers, but job-creators."
Given the Royal Government of Cambodia's priority to educate and empower women entrepreneurs by addressing skills gaps and capacity building, Visa Foundation hopes to continue implementing similar programs which seek to address the barriers faced by women entrepreneurs in Cambodia and identify solutions to help them grow their business and aim for entrepreneurial opportunities.

Enabling financial well-being among young people
Financial education is also the focus of Visa's partnership with the Association of Banks in Cambodia (ABC), with one of the key aims being to raise awareness among young adults and Cambodian students. As part of the partnership, Visa and ABC worked together to implement various activities including the development of a comic book on financial literacy distributed to students aged 12 to 15 years old.
A team of financial experts also delivered a series of talks to university students studying banking, finance, and other related fields, under the "Speaker Tours" initiative. Meanwhile, the Financial Education Video Competition 2022 encouraged young Cambodians to research the benefits of financial literacy and share their learnings via educational videos. These activities aimed to give participants a first look at the banking industry, and also provide engaging lessons on financial management.
In over a year, 10,000 copies of the comic book were printed and given to the NBC to support its financial literacy program. The Speaker Tours visited six universities, with participants learning about topics ranging from responsible lending and borrowing to blockchain revolution in financial services. The video competition also drew 21 submissions, with three groups selected as the winners at the awards ceremony.
Mr. Raymond Sia, Chairman of the Association of Banks in Cambodia, said: "Financial Inclusion and Financial Literacy are the key agendas for our sector. Financial literacy needs ongoing support from all relevant stakeholders. We acknowledged that Visa took part to contribute to raise awareness of financial literacy to the public through ABC's activities. This program in collaboration with Visa is a great contribution to our joint efforts to enhance the skills and knowledge of the young people on financial well-being and money management. With so many useful tools that make things efficient and easy in terms of finances, it is easy for them to learn the fundamentals to ensure they can protect and grow their finances sustainably."
These programs and the partnerships behind them can be seen as continuations of two important Visa initiatives on personal and business finance management. Practical Money Skills is a financial literacy program that aims to inspire individuals to take a serious look at money management and acquire essential financial skills for life. The program aims to impart the essentials of personal financial management and was curated by the company's experts over three decades. On the other hand, Practical Business Skills is a global digital platform delivering free content to help small and micro business (SMB) owners acquire business and digital skills and to make confident, informed decisions to grow their businesses.
The two Visa programs gained recognition from the American Chamber of Commerce in Cambodia (AmCham). During its 5th annual Corporate Social Responsibility (CSR) awards in 2022, AmCham recognized Visa's programs in its Financial Inclusion category – a testament to the importance and contributions of these programs and Visa's unwavering commitment to the country.
Ms. Ivana Tranchini, Visa Country Manager for Cambodia, said: "We are honoured to cooperate with the Ministry of Women's Affairs, the National Bank of Cambodia, and the Association of Banks in Cambodia in these meaningful programs, which are very much aligned with the country's national strategy for financial inclusion. We hope that we've played a small but valuable part in enhancing participants' lives as well as their communities, and support the move to narrow the gender gap in terms of financial inclusion."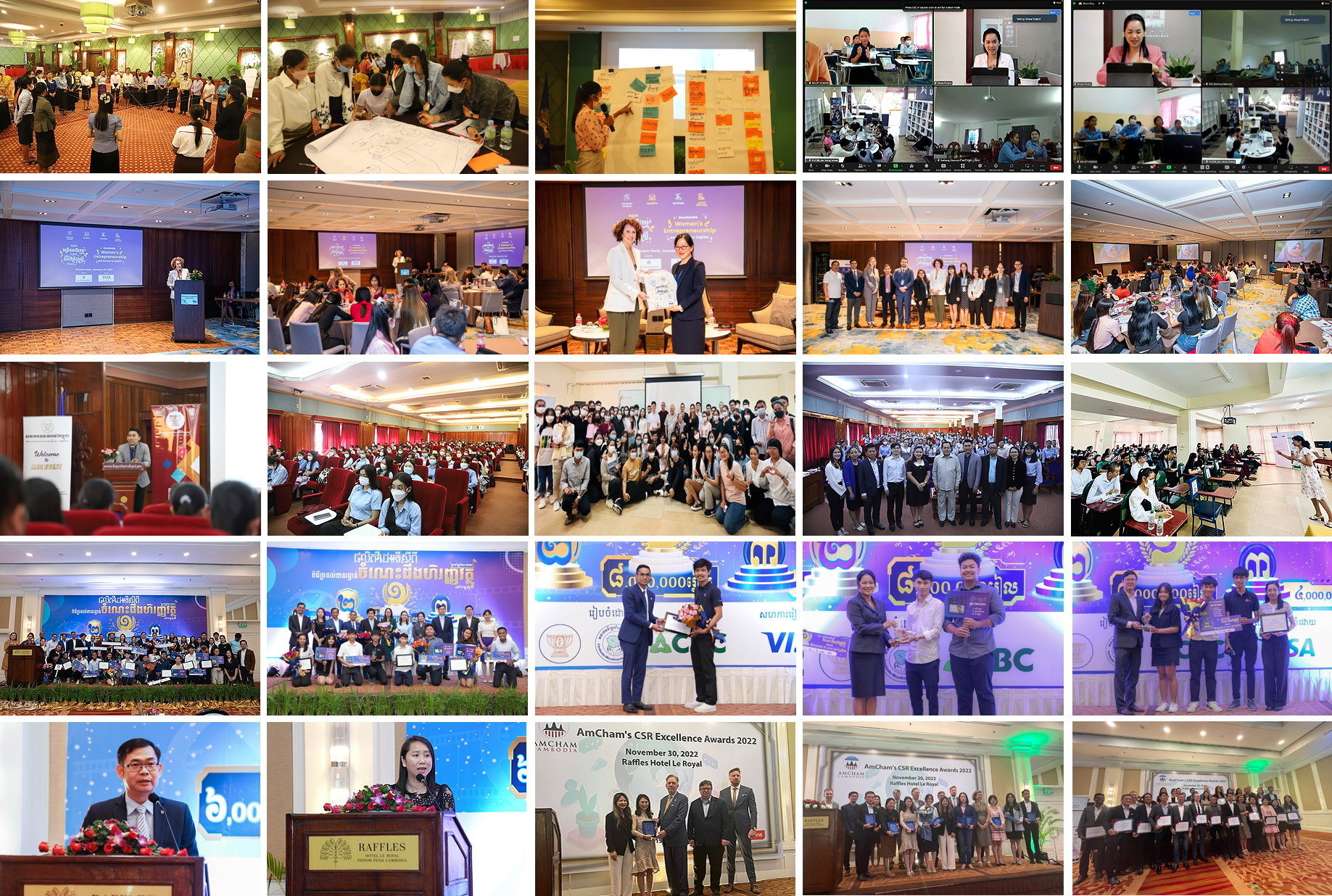 ---
About Visa
Visa (NYSE: V) is a world leader in digital payments, facilitating transactions between consumers, merchants, financial institutions and government entities across more than 200 countries and territories. Our mission is to connect the world through the most innovative, convenient, reliable and secure payments network, enabling individuals, businesses and economies to thrive. We believe that economies that include everyone everywhere, uplift everyone everywhere and see access as foundational to the future of money movement. Learn more at Visa.com.
About Visa Foundation
Visa Foundation seeks to support inclusive economies where individuals, businesses, and communities can thrive. Through grantmaking and investing, Visa Foundation prioritizes the growth of gender diverse and inclusive small and micro businesses. The Foundation also supports broader community needs, employee matching, and disaster response in times of crisis. Visa Foundation is registered in the U.S. as a 501(c)3 entity.