Visa studies show significant shift in Cambodian consumer behavior in line with Southeast Asia trends
09/19/2023
Visa studies reveal that growth in Cambodians' use of and interest in cashless payment and financial tools matches Southeast Asia neighbors.
Visa, a world leader in digital payments, reveals that the growth in the use of and interest in digital payment services in Cambodia is consistent with wider trends seen in the rest of the region, according to its latest Visa Consumer Payment Attitudes Study 20221, paired with studies of Southeast Asia2.
Digital payment climbed, in step with the rest of the region
The studies showed use of credit and​​ debit cards in Cambodia jumped 13% last year from 2020 while interest in contactless cards rose to 58% of those surveyed from 42% in 2021, evidence that Cambodians are in step with the overall growth in digital payment in the region.
Interest among Cambodians in virtual banking jumped 30 percentage points in the last year from 2021, reflecting similar surges in digital banking across the region, where consumers are most interested in digital banking services offered by traditional banks (90%), rather than new players (76%).
With cash use still prevalent, Cambodia lags behind most regional neighbors in adopting some digital payment methods, suggesting Cambodia is an untapped market full of opportunities for retailers and banks who focus heavily on their digital capabilities and mobile banking apps to develop a competitive advantage.
Chief among the sectors that appear poised to benefit from the digitalization of Cambodian society are MSMEs (micro, small and medium-sized enterprises). 76% of respondents said they shop at MSMEs at least once a week, with 66% paying in cash, suggesting MSMEs who can harness the convenience and transparency of digital payment solutions will reap the rewards of an enhanced costumer experience and business growth.
"These studies reflect the amazing strides Cambodia has made in adopting cashless payment methods and the opportunities going forward for merchants and payment services providers to further meet this growing demand," said Ms. Ivana Tranchini, Visa Country Manager for Cambodia. "This is an exciting moment in Cambodia's digital transformation toward a cashless society, and Visa is committed to providing safe, secure and convenient digital payment options for consumers and businesses alike."
New financial management behaviors unveiled
The studies also showed that the COVID-19 pandemic impacted spending patterns across the region. A majority of Cambodians say they are now saving more for the future (75%) and setting aside bigger budgets for essentials such as food and healthcare (74%), in line with regional averages.
Purchasing goods in installments, such as with Buy Now, Pay Later (BNPL) plans, has also become popular in Cambodia, with 81% of respondents saying they had used a BNPL plan, which is above the regional average of 69% and trails only Vietnam at 83%. Cambodians are also leaders in the number of BNPL plans taken up over the last two years at 6.6 per person, behind only Indonesia's 7.6 plans and more than the average in the region of 5.9 plans.
Along with credit cards, BNPL plans give banks a tool to support customers who face adversity with short-term financing, allowing customers to transition to other forms of credit and helping them build their credit history and financial stability through controlled and transparent repayment plans. In other countries/territories, banks have successfully used BNPL for credit provisioning and financial inclusion.
Visa, in an effort to promote the use of insurance and other financial planning solutions, recently announced that Cambodians can receive a voucher for AEON online purchases when they use any Visa card to purchase a Prudential's Digital policy through October 31, 20233.
"Digital payment solutions play an important role in providing transparency and the data to manage money effectively," Ms. Tranchini said. "Banks should be thinking about how they can bring these kinds of tools into their mobile banking environments, as well as encouraging Cambodians to continue to responsibly leverage new money management tools, like BNPL, credit cards and insurance."
The studies also showed that a growing commitment to the environment by Cambodian and regional consumers is increasingly informing spending decisions, including actively looking for brands of companies that focus on sustainability and ESG (environmental, social and corporate governance), and even paying more for products from such companies.
Visa has achieved carbon neutrality across its operations beginning in 2020 through its ongoing energy efficiency initiatives and is committed to achieving net-zero emissions by 2040, a timeframe at least 10 years ahead of the Paris Climate Agreement.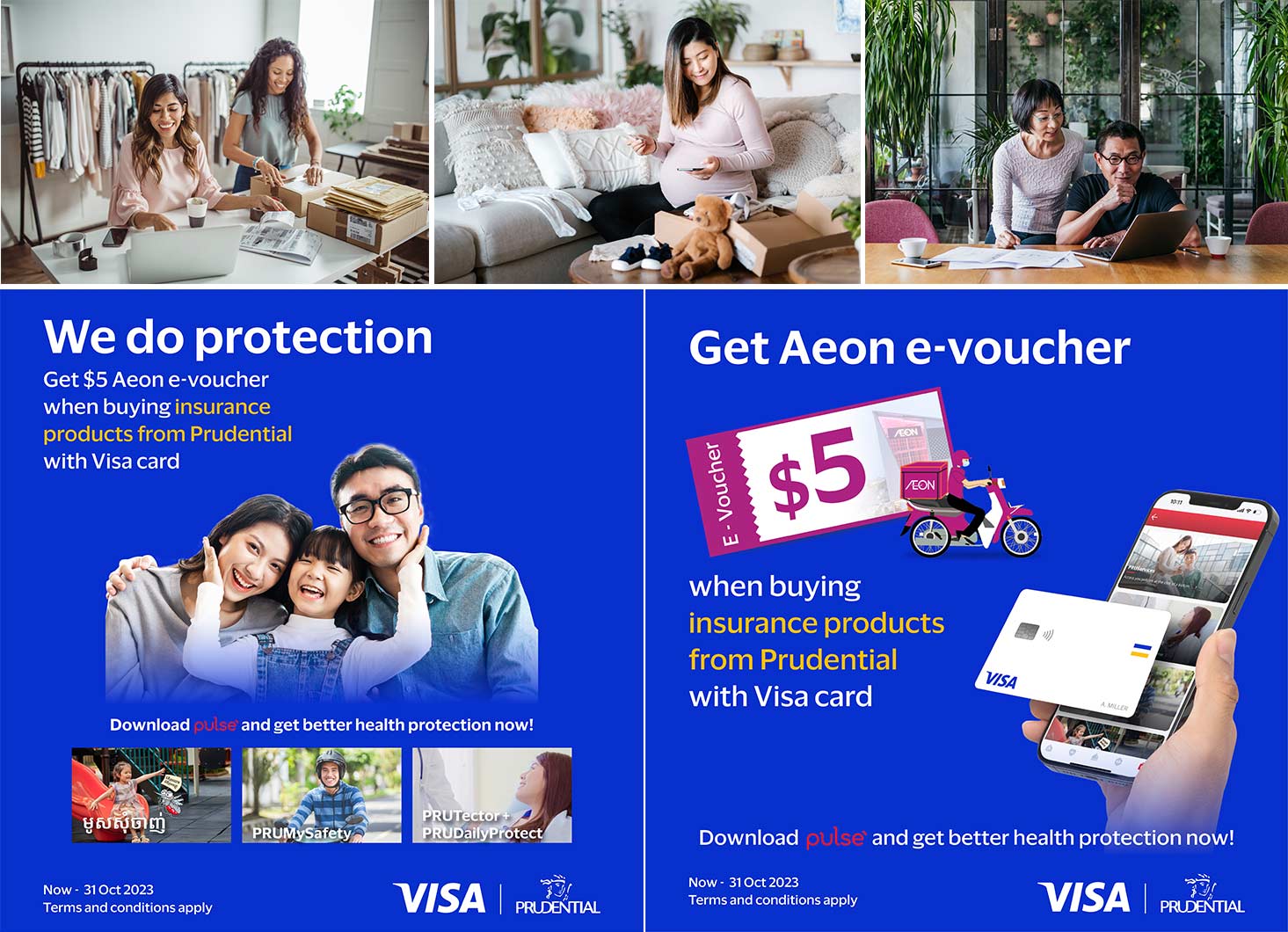 1 The study conducted online interviews with 500 Cambodian consumers across the country who are working part or full time with a demographic mix that sought to create a representative mix of ages and genders.
2 The Visa Consumer Payment Attitudes Study was prepared by CLEAR in Sep-Oct 2022, surveyed amongst 6,550 consumers in Singapore, Philippines, Malaysia, Indonesia, Thailand, Vietnam, and Cambodia, https://www.visa.com.kh/dam/VCOM/regional/ap/singapore/global-elements/documents/visa-cpa-2023-report-ipvmc-final.pdf.
3 Terms and conditions apply.
About Visa
Visa (NYSE: V) is a world leader in digital payments, facilitating transactions between consumers, merchants, financial institutions and government entities across more than 200 countries and territories. Our mission is to connect the world through the most innovative, convenient, reliable and secure payments network, enabling individuals, businesses and economies to thrive. We believe that economies that include everyone everywhere, uplift everyone everywhere and see access as foundational to the future of money movement. Learn more at Visa.com.